September 2020
| Mon | Tue | Wed | Thu | Fri | Sat | Sun |
| --- | --- | --- | --- | --- | --- | --- |
| | 1 | 2 | 3 | 4 | 5 | 6 |
| 7 | 8 | 9 | 10 | 11 | 12 | 13 |
| 14 | 15 | 16 | 17 | 18 | 19 | 20 |
| 21 | 22 | 23 | 24 | 25 | 26 | 27 |
| 28 | 29 | 30 | | | | |
Calendar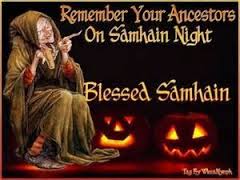 Samhain is a holiday of remembrance and renewal. Whether you need an anointing oil for ritual or a aromatherapy blend to connect you to the season, here is a blend for you!
2 Drops Sage Essential Oil
2 Drops Rosemary Essential Oil
2 Drops Sweet Orange Essential Oil
2 Drops Tangerine Essential Oil
5 Drops Patchouli Essential Oil
1 Drop Cedar Essential Oil
Combine the essential oils in a clean dropper bottle and fill to the shoulder with a carrier oil like almond or jojoba. You can add obsidian chips for a protective energy, citrine chips to keep the oil energetically clean, or clear quartz chips as a general magnifier. Alternatively you can combine the oils with water in a diffuse for some seasonal aromatherapy.
Sage connects the user to the divine and promotes energetic cleanliness. Rosemary promotes love and remembrance. Orange attracts love and prosperity. Tangerine connects to new beginnings and a new year. Patchouli is an oil that connects to the Earth. Cedar is a super cleansing oil.
https://cauldronandbrew.wordpress.com/2015/10/15/samhain-oil-blend/
---
Permissions in this forum:
You
cannot
reply to topics in this forum