September 2020
| Mon | Tue | Wed | Thu | Fri | Sat | Sun |
| --- | --- | --- | --- | --- | --- | --- |
| | 1 | 2 | 3 | 4 | 5 | 6 |
| 7 | 8 | 9 | 10 | 11 | 12 | 13 |
| 14 | 15 | 16 | 17 | 18 | 19 | 20 |
| 21 | 22 | 23 | 24 | 25 | 26 | 27 |
| 28 | 29 | 30 | | | | |
Calendar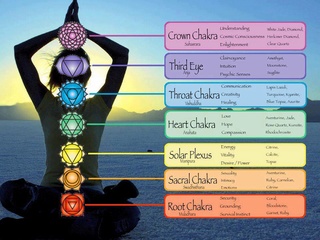 Crystals and their Corresponding Chakras
Some examples of crystals and the chakras they can benefit are:
Base chakra – red jasper, hematite, black obsidian, smoky quartz, bloodstone, black tourmaline, snowflake obsidian, jet, opal and mookaite.
Sacral chakra – carnelian, moonstone, pearl, blue jasper, topaz, orange calcite and citrine.
Solar plexus chakra – citrine, ametrine, amber, tiger's eye, yellow jasper, golden beryl and malachite.
Heart chakra – malachite, aventurine, rose quartz, garnet, chrysocolla, jade, Rhodochrosite, ruby and green quartz.
Throat chakra – blue lace agate, turquoise, kyanite, azurite, amethyst, aquamarine and kunzite.
Brow chakra – sodalite, Herkimer diamond, garnet, sapphire, lapis lazuli, moldavite and tanzanite.
Crown chakra – amethyst, Sugilite, selenite, howlite, moldavite, quartz, and citrine.
https://exemplore.com/healing/Working-with-Chakras-in-Crystal-Healing
---
Permissions in this forum:
You
cannot
reply to topics in this forum